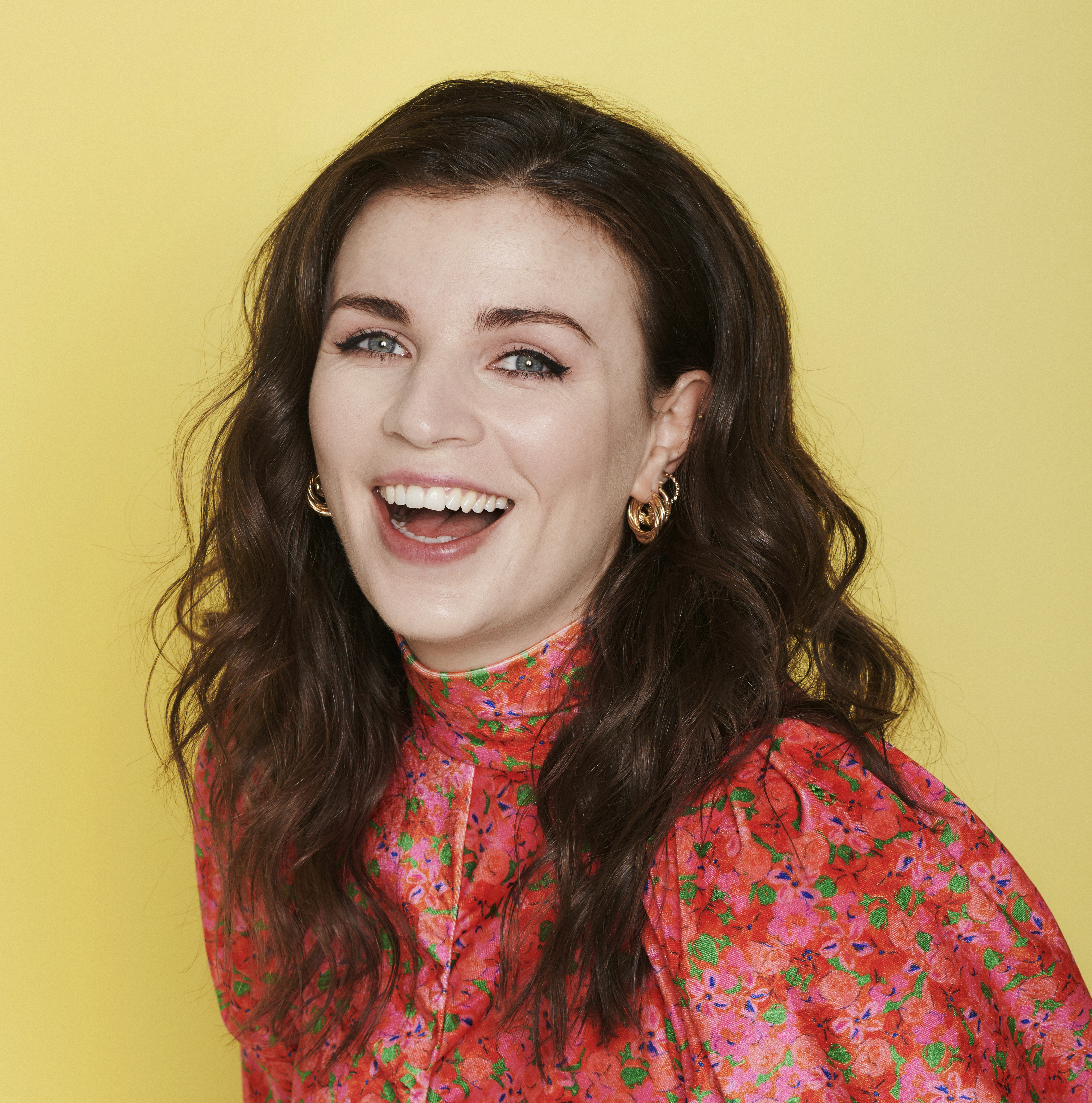 Aisling starred, wrote and exec produced two seasons of her BAFTA winning and nominated show This Way Up, also starring Sharon Horgan, which airs on Hulu and Channel 4 and around the world on various platforms. The show was nominated and won many awards (NME, British Comedy Award) but she won a BAFTA in 2020 for writing it and was nominated for BAFTA for Best Comedy Actress in 2022.
As an actress, she has most recently starred to critical acclaim in the musical movie Greatest Days. She starred alongside Paul Rudd in the fantastic Netflix Original series, Living with Yourself, opposite Rob Delaney in the hugely popular Disney remake of Home Alone- Home Sweet Home Alone, took the guest lead in the global phenomena that is Doctor Who, in their New Years Day Special episode which was written for her and in Netflix feature film Love. Wedding. Repeat with Sam Claflin and Eleanor Tomlinson. Aisling is soon to be seen starring in the feature film And Mrs alongside Colin Hanks and Billie Lourd, in Smothered on Sky TV and has just started filming a lead role in feature film Svalta with Nick Frost.
Other acting credits include the acclaimed BBC drama series The Fall with Jamie Dornan and Gillian Anderson, Quiz by James Graham, who adapted the story for ITV and AMC from his Oliver-nominated play of the same title and BBC drama Hard Sun from Luther creator Neil Cross.
Aisling is an acclaimed and award winning stand up comedian having appeared on almost all of the British TV panel shows like Qi (BBC1), Taskmaster (Dave/ Channel 4), Ru Paul's Drag Race (BBC) as a judge, 8 Out of Ten Cats Does Countdown (Ch4), James Corden's A League of Their Own (Sky), The Big Fat Quiz of Everything (Ch4), The Last Leg (Ch4), Live At The Apollo (BBC1), Russell Howard's Good News (BBC3),The Jonathan Ross Show (ITV) and Graham Norton (BBC). She won a British Comedy Award for Best Female Comedian, has a mini Netflix Special available to stream globally and regularly performs across the world. She will appear in the New Year on hit show LOL: Last One Laughing Ireland for Amazon Prime.  In 2011 she became the first woman in 20 years to win the prestigious So You Think You're Funny? competition for new stand-ups and in 2016 became the first ever female team captain of long running show 8 Out Of 10 Cats with Jimmy Carr which she did until 2019.
Aisling is the current face of Jameson Whiskey and recently took on writing a successful campaign of adverts for them. She has scripts in development in the UK and US, script edited Greatest Days and also co-wrote Affairs Of State a movie in development with Star Thrower.
Nominee: BAFTA TV Awards for The Female Performance in a Comedy Programme 2022 (This Way Up)
Winner: NME Awards Best Actor 2022 (This Way Up)
Nominee: Writers' Guild Of Great Britain Best TV Situation Comedy 2021 (This Way Up – Series 2)
Winner: BAFTA Breakthrough Act 2020
Nominee: RTS Awards Breakthrough Award 2019
Winner: British Comedy Awards Best Female TV Comic 2015
Nominee: Fosters Comedy Award Best Newcomer 2013
Winner: So You Think You're Funny 2012
Credits
TV
LOL: Last One Laughing Ireland, Amazon, 2023 (Guest) – TX date tbc
QI, BBC2, 2014 – 2023 (Guest)
The Last Leg, C4, 2017 – 2023 (Guest)
The Big Narstie Show, C4, 2022 (Guest)
Ru Paul's Drag Race UK, BBC1, 2022 (Guest)
Rhod Gilbert's Growing Pains, C4, 2021 (Guest)
This Way Up, C4 and Hulu, 2019-2021, Series 1-2, (Creator, Writer and role of Aine)
One Night In, C4, 2021 (Guest)
I Literally Just Told You, C4, 2021 (Contestant)
The Kelly Clarkson Show, NBC, 2021 (Guest)
The Late Late Show with James Corden, CBS, 2021 (Guest)
Late Night with Seth Meyers, NBC, 2021 (Guest)
Have I Got News For You, BBC1, 2021 (Guest Host)
The Jonathan Ross Show, ITV, 2019, 2021 (Guest)
The Lateish Show with Mo Gilligan, C4, 2019, 2021 (Guest)
The Great British Bake Off: An Extra Slice, C4, 2021 (Guest)
SU2C: Gogglebox, C4, 2021 (Guest)
House Of Games, BBC2, 2020 (Guest)
The Graham Norton Show, BBC1, 2020 (Guest)
Guessable, Comedy Central, 2020 (Guest)
The Russell Howard Hour, Sky One, 2020 (Guest)
The Ranganation, BBC2, 2020 (Guest)
Billy Connolly: It's Been A Pleasure, ITV, 2020 (Guest)
Cinderella: A Comic Relief Pantomime for Christmas, BBC2, 2020 (Role of Mrs Snitch)
Quiz, 2020 (Role of Claudia Rosencrantz)
Living With Yourself, Netflix, 2019 (8 eps)
8 Out Of 10 Cats Does Countdown, C4, 2014, 2015, 2018, 2019 (Guest)
8 Out Of 10 Cats, More4 & E4, 2016-2017, 2019 (Team Captain)
The Comedy Line Up, Netflix, 2018 (Stand-Up)
Word of the Year, C4, 2017 (Herself)
Plebs, ITV2, 2017 (Role of Minerva – 1 ep)
An Extra Slice, BBC2, 2017 (Herself)
SU2C Bake Off, C4, 2017 (Herself)
Taskmaster, Dave, 2017 (Contestant)
Gap Year, C4, 2017 (Role of Kendra – 2 eps)
Travel Man, C4, 2017, 2022 (Guest)
Hard Sun, BBC1/HULU, 2017 (Role of Mari Butler – 5 eps)
The Fall, C4, 2016-2017 (Role of Nurse Sheridan – 4 eps)
Damned, C4, 2016 (Role of Anne-Marie – 1 ep)
Frank Skinner On Demand, BBC iPlayer, 2016 (Guest)
Big Fat Quiz Of Everything, C4, 2016 (Guest)
Very British Problems, C4, 2016 (Guest)
Child Genius, C4, 2016 (Guest)
Duck Quacks Don't Echo, Sky 1, 2016 (Guest)
The O2 Comedy Gala, C4, 2014, 2016 (Stand-Up)
Insert Name Here, BBC2, 2016, 2017 (Guest)
Trollied, Sky1, 2014-15 (Role of Charlie – 13 eps)
A League Of Their Own, Sky 1, 2015, 2016 (Guest)
Room 101, BBC1, 2016 (Guest)
The Cloud, C4, 2015 (Actor)
Channel 4's Alternative Election Night, C4, 2015 (Presenter/Performer)
Would I Lie To You, BBC1, 2014, 2015 (Guest)
Delivery Man, ITV, 2015 (Role of Lisa – 6 eps)
Vodka Diaries, BBC3, 2014 (Role of Nic – 1 ep)
Virtually Famous, BBC3, 2014 (Guest)
Celebrity Squares, ITV, 2014, 2015 (Guest)
8 Out Of 10 Cats, C4, 2014 (Guest)
Live At The Apollo, BBC1, 2014 (Stand-Up)
The Assets, ABC America, 2014 (Role of Kara Jensen – 1 ep)
Fit CBBC, 2012 – 2013 (Various – 9 eps)
Sweat The Small Stuff, BBC3, 2013 (Guest)
Monumental, BBC NI, 2013 (Guest)
Russell Howard's Good News, BBC3, 2013 (Stand-Up)
Seann Walsh's Late Night Comedy, BBC3, 2013 (Stand-Up)
Don't Sit In The Front Row, Sky Atlantic, 2013 (Guest)
The Town, ITV, 2012 (Role of Carly – 3 eps)
Trivia, RTE, 2012 (Role of Ruth – 6 eps)
In With The Flynns, BBC1, 2012 (Role of Naimah – 1 ep)
Dead Boss, BBC3, 2012 (Role of Laura – 6 eps)
Cardinal Burns, C4, 2011, 2012 (Role of Sally – 5 eps)
The Savage Eye III, RTE, 2009-2011 (Various – 3 eps)
Holby City, BBC, 2011 (Role of Amelia Warner – 1 ep)
Lewis, ITV, 2011 (Role of Hotel Receptionist – 1 ep)
Come Fly With Me, BBC1, 2011 (Role of Mary O'Mara – 1 ep)
Freedom, BBC, 2010 (Role of Aisling)
LOL, BBC NI, 2010 (Various – 1 ep)
Inn mates, BBC3, 2010 (Role of Elf – 1 ep)
Roy, RTE/CBBC, 2009 (Role of Ticket Girl – 1 ep)
We Are Klang, BBC, 2009 (Role of Inspector – 1 ep)
Fair City, RTE, 2009 (Role of Cliodhna Norris – 3 eps)
Writing
Film
Greatest Days (2023)
And Mrs (2023)
Swede Caroline (2022)
Home Sweet Home Alone (2021)
Love, Wedding, Repeat (2019)
Radio & Podcasts
Women's Prize for Fiction Podcast, 2022 (Panellist)
Talk Art, 2021 (Guest)
Comedy Bang Bang, 2021 (Guest)
Wilosophy, 2021 (Guest)
The Endless Honeymoon, 2021 (Guest)
Comfort Eating with Grace Dent, 2021 (Guest)
Table Manners, 2020 (Guest)
An Irishman Abroad, 2019, 2020 (Guest)
RHLSTP, 2020 (Guest)
You Made It Weird, 2020 (Guest)
Adulting, 2019 (Guest)
Off Menu, 2019 (Guest)
Guilty Feminist, Podcast, 2018-2019 (Co-Host)
Griefcast, Podcast, 2018 (Guest)
Do The Right Thing, Podcast, 2018 (Guest)
The Adam Buxton Podcast, 2018 (Guest)
What is Normal? BBC Radio 2, 2018 (Guest)
It's Not What You Know, BBC Radio 4, 2016 (Guest)
The Unbelievable Truth, BBC Radio 4, 2015, 2016 (Guest)
Irish Micks and Legends, BBC Radio 4, 2013, 2015 (Writer/Performer)
Loose Ends, BBC Radio 4, 2014 (Guest)
Sabotage, BBC Radio 4 Extra, 2014 (Stand-Up)
Josh Widdicombe Show, XFM, 2014 (Guest)
Press
The standout was Aisling Bea's set… combining high-quality routines about Covid, Ireland and Jesus in an irresistible goofball package
Guardian (Top 10 Shows Of 2020 – Number 2)

A masterclass in high-impact entertainment.
Evening Standard ★★★★★
An hour of high-energy comedy that is puppyishly irresistible.
The Independent ★★★★★
Certainly lives up to the hype… brilliant material. ★★★★
The List 
A born comedian 
Steve Bennett, Chortle ★★★★
 A physical show and at times beautifully deranged…[Bea has] utter charm that's not all down to the Irish accent. 
The Herald ★★★★
The opinions and convictions Bea smuggles into her set […] suggest a comic who'll have meaningful things to say once she's proven, to everyone's satisfaction, that she's got being funny in the bag. On which point: job done.
The Guardian ★★★★
A caustic, sarcastic yet hugely loveable second Fringe hour from the Irish jester.
The List ★★★★
Aisling Bea: unstoppable confidence in bubbly, charismatic show of escapist fantasies…I'm more than happy to be in her fan club.
Bruce Dessau, Evening Standard ★★★★
She returns with another high-energy hour of clowning about and rapid-fire delivery mixed with some astute political observation.
The Arts Desk ★★★★★
Praise for This Way Up
TV so good it's indistinguishable from magic.
The Guardian ★★★★★

Series two somehow manages to be funnier, kinder and more heartbreaking than its predecessor, and is a perfect testament to Bea's talent.
The Independent ★★★★★
A series as fiercely realistic as it is funny as it is… well, everything.
The Guardian ★★★★★
Sharp and well observed, probing the fault lines between small talk and real problems.
The Independent ★★★★
This is a comedy about mental health that deftly preys on your fears and pricks your sympathies. At the same time there was a gratifyingly high gag rate.
The Telegraph ★★★★