If he continues this way, Lycett will become one of mainstream's biggest names.
The Times
Joe Lycett is an award-winning comedian and writer.
One of the best-loved performers in the UK, Joe is a stand-up star with bundles of stage presence and effortless charm. An Edinburgh Comedy Award Best Newcomer nominee and a Chortle Award winner, Joe's profile has risen rapidly since making his stage debut at the Manchester Comedy Store in 2008.
Joe make his debut on The Royal Variety Performance, in 2016, in front of HRH Prince Of Wales and HRH The Duchess Of Cornwall at London's Hammersmith Apollo.  Since then, Joe has become familiar face on television performing stand-up on programmes such as BBC1's Live At The Apollo and ITV's Sunday Night At The Palladium, as well as regularly starring on panel shows such as Channel 4's 8 Out Of 10 Cats Does Countdown, BBC2's QI and ITV2's Celebrity Juice. In 2017 Joe was the host of BBC1's Comic Relief show, performed stand-up on Michael McIntyre's Big Show for BBC1 and was a contestant on the fourth series of Dave's Taskmaster.
In 2015, Joe became the new host of BBC Radio 4's long-running panel show, It's Not What You Know, and in 2018 Joe had his own BBC Radio 4 show, Joe Lycett's Obsessions, commissioned. He has made regular appearances on BBC Radio 4 institution Just A Minute, The Richard Bacon Show on Radio 5 Live, The Scott Mills Show on BBC Radio 1 and has co-hosted The Greg James Show on BBC Radio 1.
Joe performed his hotly-anticipated debut hour Some Lycett Hot at the 2012 Edinburgh Fringe Festival. The show was a huge hit with critics and audiences alike, selling out its entire run and securing Joe a Foster's Comedy Award Best Newcomer nomination.
Joe has since returned to the Fringe with his 2013 hit, If Joe Lycett The You Should've Put A Ring On It, and the critically acclaimed That's The Way, A-Ha, A-Ha, Joe Lycett in 2015. Both shows enjoyed sold out runs and rave-reviews, with the 2015 Fringe culminating in a packed-out show at the 750-seater Pleasance Grand. Joe toured the show in 2016, winning the Chortle Award for Best Show and eventually releasing it on DVD. Joe has also performed internationally at the Melbourne International Comedy Festival and Montreal Just For Laughs Comedy Festival.
Joe hit the road with his biggest tour to date in 2018, with his latest show I'm About To Lose Control and I Think Joe Lycett. The tour of the UK and Ireland was a huge success, with over 90 dates performed, and Joe will tour the show in Australia in 2019.
2019 is set to be another bumper year for Joe, as the new host of BBC2's The Great British Sewing Bee and with his brand-new comedy consumer affairs show, Joe Lycett's Got Your Back, for Channel 4.
Joe made his first foray into the literary arena with Parsnips: Buttered, a self-help book designed to teach you how to "baffle, bamboozle and boycott your way through modern life", released in October 2016.
Awards
Winner: Best Show – Chortle Awards 2016
Nominee: Best Compere – Chortle Awards 2013
Nominee: Foster's Edinburgh Comedy Award Best Newcomer 2012
Finalist: BBC Radio 2 New Comedy Award 2011
Winner: Best Newcomer – Chortle Awards 2010
Winner: Chortle Student Comedian of the Year 2009
Runner-up: Latitude Festival: New Act of the Year 2009
Runner-up: Laughing Horse New Act of the Year 2009
Semi-Finalist: So You Think You're Funny 2008
Edinburgh Fringe 2008: Amused Moose Hot Starlet
Television
The Great British Sewing Bee (Host, BBC2, 2019)
Joe Lycett's Got Your Back (Host, C4, 2019)
The Great Stand Up To Cancer Bake Off (Contestant, C4, 2018)
Roast Battle (Contestant, Comedy Central UK, 2018)
Mary Berry's Christmas Party (Guest, BBC1, 2018)
Sunday Brunch (Co-host, C4, 2017, 2018)
The One Show (Guest, BBC1, 2017, 2018)
The Last Leg (Guest, C4, 2018)
Celebrity Portrait Artist of the Year (Contestant, Sky Arts, 2018)
Comic Relief (Host, BBC1, 2017)
Michael McIntyre's Big Show (Performer, BBC1, 2017)
QI (Guest, BBC2, 2017)
8 Out of 10 Cats Does Countdown (Guest, C4, 2014 – 2017)
Taskmaster (Contestant, Dave, 2017)
Travel Man (Guest, C4, 2017)
Harry Hill's Alien Fun Capsule (Guest, ITV, 2017)
As Yet Untitled (Guest, Dave, 2017)
The Big Spell (Co-host, Sky1, 2016-17)
Live At The Apollo (Host, BBC1, 2016)
12 Stars Of Christmas (C4, 2016)
The Royal Variety Performance (Performer, ITV, 2016)
The Jonathan Ross Show (Guest, ITV, 2016)
Room 101 (Guest, BBC2, 2016)
Countdown (Dictionary Corner, C4, 2016)
Russell Howard's Stand Up Central (Performer, Comedy Central, 2016)
Duck Quacks Don't Echo (Sky 1, 2016)
Drunk History (Storyteller, Comedy Central, 2016)
Insert Name Here (Guest, BBC2, 2016)
Thronecast (Guest, Sky Atlantic, 2016)
The Great British Bake Off: Extra slice (Guest, BBC2, 2015)
8 Out Of 10 Cats (Guest, C4, 2011, 2012, 2015)
Would I Lie To You? (Guest, BBC1, 2015)
Celebrity Fifteen To One (Guest, C4, 2015)
Sunday Night At The Palladium (Performer, ITV1, 2015)
Reality Bites (ITV2, 2015)
The Apprentice: You're Fired (Guest, BBC2, 2014)
Live At The Apollo (Performer, BBC1, 2014)
Never Mind the Buzzcocks (Guest, BBC2, 2012, 2014)
Celebrity Squares (Panellist, ITV, 2014)
Sweat the Small Stuff (Guest, BBC3, 2013, 2014)
Montreal International Comedy Festival Gala (Performer, Comedy Central, 2014)
Twit of the Year (Panellist, C4, 2013)
Staying In With Greg & Russell (Guest, BBC3, 2013)
Xtra Factor (Guest, ITV, 2013)
Britain's Got More Talent (Guest, ITV, 2013)
Celebrity Juice (Guest, ITV2, 2012, 2013)
Celebrity Juice (Guest, ITV2, 2012, 2013)
Don't Sit in the Front Row – Guest (Guest, Sky Atlantic, 2012)
Deal or No Deal (Guest, C4, 2012)
Dirty Digest (Regular Panellist, E4, 2011)
Comedy @ The Fringe (Performer, BBC3, 2011)
Epic Win (Co-host, BBC1, 2011)
Show and Tell (Guest, E4, 2011)
Most Annoying People 2010 (Guest, BBC3, 2010)
The Late List, non-broadcast pilot (Channel 4, 2010)
Laughter Shock (BBC3, 2010)
Radio
Joe Lycett's Obsessions (Host, BBC R4, 2018)
It's Not What You Know (Host, BBC R4, 2016 – 2018)
The Greg James Show (Co-host, BBC R1, 2017, 2018)
Chain Reaction (BBC R4, 2017)
The Unbelievable Truth (BBC R4, 2015)
Don't Make Me Laugh (BBC R4, 2014, 2015)
Just a Minute (BBC R4, 2014, 2015)
Britain Vs The World (BBC R4, 2014)
Phil Taggart & Alice Levine (BBC R1, 2013)
The Scott Mills Show (BBC R1, 2013)
The Josh Widdicombe Show – weekly contributor (XFM)
The Radio One Breakfast Show with Nick Grimshaw (BBC R1, 2013)
It's Not What You Know (BBC R4, 2013)
Tom Deacon's Road Trip (BBC R1, 2013)
MacAuley and Co (Guest, BBC Radio Scotland, 2011-13)
The Scott Mills Show (Guest, BBC R1, 2012)
Richard Bacon (Guest, BBC Radio 5 Live, 2012)
Afternoon Reading: Comic Fringes (Writer/Performer, BBC R4, 2011)
Voiceover
Ibiza Weekender Series 1-3 – Voice Over (ITV, 2015-2017)
Magaluf Weekender Series 1-3 – Voice Over (ITV2, 2013-14)
Live
I'm About To Lose Control and I Think Joe Lycett, UK & Ireland Tour 2018
That's The Way, A-Ha A-Ha, Joe Lycett, Edinburgh Fringe 2015 then UK tour 2015/2016
If Joe Lycett Then You Should've Put a Ring On It, Edinburgh Festival 2013 then UK tour 2013/14
Joe Lycett: Some Lycett Hot, Soho Theatre 2013
Joe Lycett: Some Lycett Hot, Edinburgh Festival 2012
Jack Whitehall: Let's Not Speak Of This Again, UK Tour 2011 – Support
Tommy Tiernan: Poot, UK Tour 2011 – Support
The Pleasance Comedy Reserve, Edinburgh Festival 2011
Ross Noble and Friends
Scott Capurro: Spring 2011
Books
Joe Lycett: Parsnips, Buttered: Bamboozle and boycott modern life, one email at a time (Hodder & Stoughton, 2016)
The excellent routines are greatly enriched by Lycett's manner: playful, laidback, more like on of us, it feels, than the attention-seeking neurotics you might encounter elsewhere.
The Guardian
What a joy it is to spend an hour with Joe Lycett… Lycett is affable when the tackles the big topics as he is when he deconstructs the trivial. Arenas surely wait. 
The Independent 
If he continues this way, Lycett will become one of mainstream's biggest names. ★★★★
The Times 
If you want to bet on the next mainstream stand-up star put your shirt on Joe Lycett. ★★★★
Evening Standard
He's cheeky, warm, super-funny and mixes delightful stories and observations. He's effortlessly funny and an hour in his company is an absolute pleasure.
Time Out
Extremely fine gags. 
Guardian
Rising talent Joe Lycett already possesses the confidence and relaxed, homely charm of an old campaigner.
The Times
A delightfully natural style that builds a real connection with the audience…an accomplished storyteller.
Chortle
Entertainingly mischievous … intensely charming.
Guardian
Lycett's guaranteed to be a huge star.
Time Out
The epitome of affability on stage… he has an excellent way of telling a story.
Chortle
A growing force on the UK stand-up circuit.
The Telegraph
On 2015 Edinburgh Show That's The Way, A-Ha, A-Ha, Joe Lycett
He has the calm, confident air of a comedian twice his vintage. ★★★★
The Independent 
Some comedians just make it look so easy, and Joe Lycett is one such example. An hour in his company just goes down like water. Since he made his debut two years ago, he has developed the serene air of a comic completely at ease with himself and his material. ★★★★1/2
Chortle 
He makes funny seem easy.
The Guardian
On 2013 Edinburgh Show Joe Lycett: If Joe Lycett Then You Should've Put A Ring On It
An accomplished hour…instant rapport with his audience.
Metro
This show is a roaring success.
Fest
So entertaining…cheerfully silly…it's a pleasure to be in Lycett's company.
Chortle
It's impossible not to be carried off on a wave of goodwill…should leave you grinning with liberal delight.
The List
On 2012 Edinburgh Show Joe Lycett: Some Lycett Hot
This may be Joe Lycett's debut solo year, but his confidence and comic timing would be the envy of the most experienced turn.
The List
His armoury consists of wit, charm, and the enviable ability to elicit laughs through cadence alone.
Chortle
[The Audience is] utterly charmed…Don't be surprised to see him gracing the Best Newcomer shortlist.
Metro
Scorching comedy.
Fest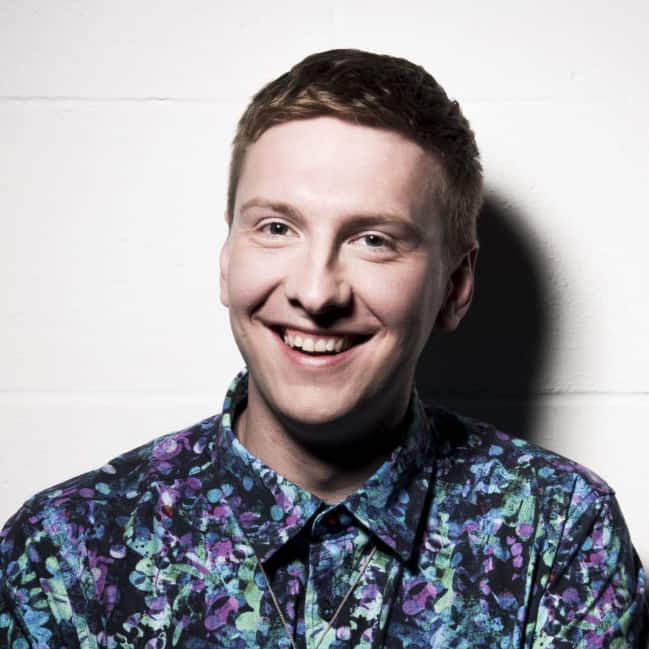 First show at the Fringe was a cracker - @CatherineBohart was charming, moving and really funny. Pleasance Courtyard, 6pm 🍋🍋🍋