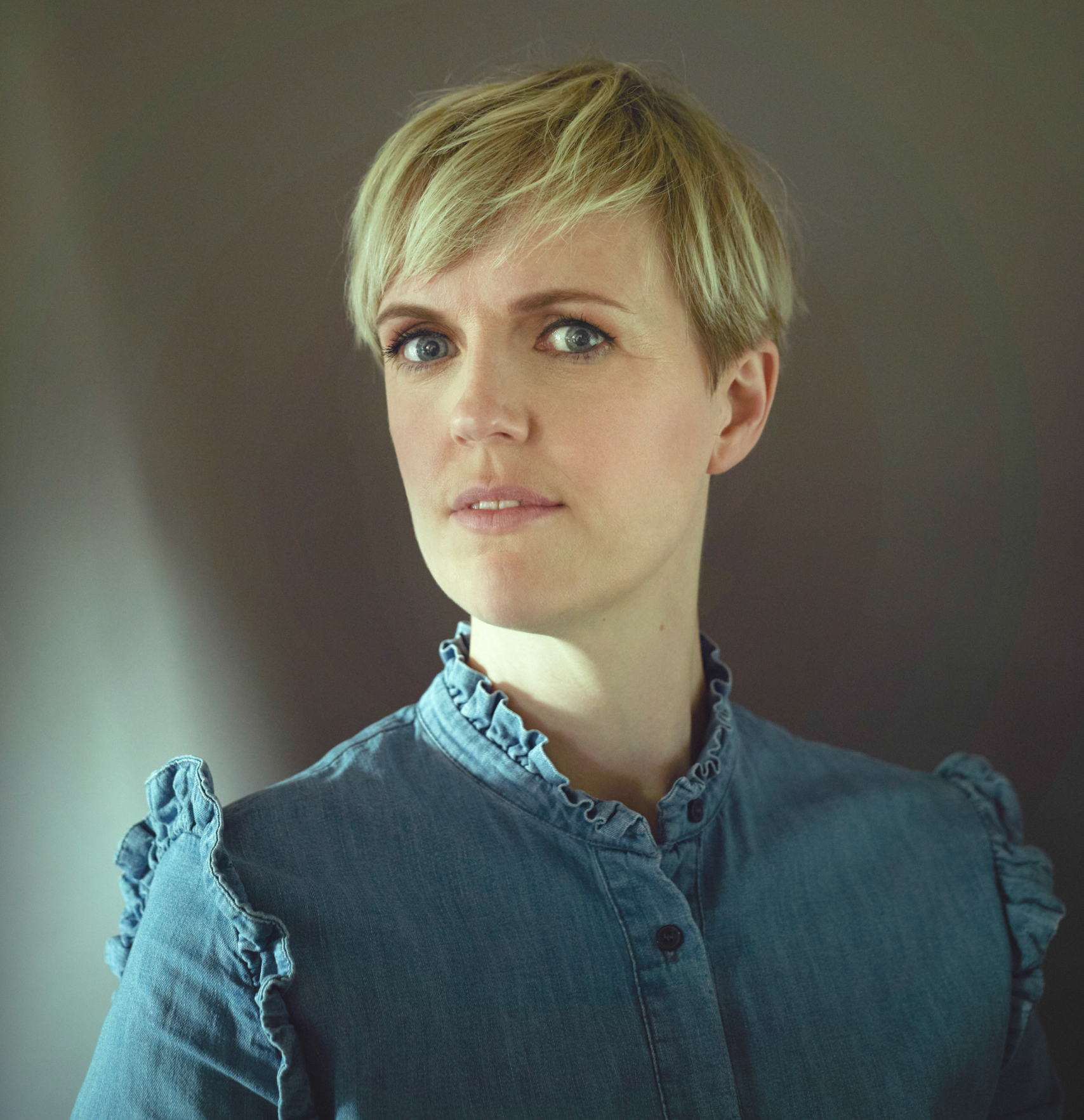 Snappy wit and crackling talent
The Guardian
Holly Walsh is a BAFTA award winning comedian, writer, executive producer and director.
Holly is co-creator, co-writer and executive producer of the BBC sitcom Motherland. In May 2022, Holly and her fellow writers won the BAFTA for Best Scripted Comedy.  They have also been nominated for multiple prestigious awards for the show, including Royal Television Society Awards (2017), British Screenwriters' Awards (2018) and International Emmy Awards (2021).
Holly is also the creator, co-writer and executive producer of The Other One, which launched on BBC1 in June 2020. In addition to creating, writing and exec producing the show, Holly also directed most of the first series and all of the second series, which began airing in May 2022 on BBC1. Both series of The Other One have received widespread critical acclaim.
Holly has appeared on all of the top TV British comedy shows including: Live at the Apollo (BBC2), QI (BBC2), Would I Lie To You? (BBC1), Room 101 (BBC1), Mock The Week (BBC2) and 8 Out Of 10 Cats Does Countdown (C4). 
Before turning her hand to writing, producing and directing television, Holly performed multiple sellout solo stand up shows at the Edinburgh Fringe Festival, securing a nomination for Best Newcomer at the Edinburgh Comedy Awards for her debut show Hollycopter.
Awards
Winner: BAFTA TV Awards for Scripted Comedy (Motherland), 2022
Nominee: Royal Television Society Awards, Comedy Writing (Motherland), 2017 & 2022
Nominee: International Emmy Awards, Best Comedy (Motherland), 2021
Nominee: British Screenwriters' Awards, Best Comedy Writing on Television (Motherland), 2018
Nominee: Foster's Edinburgh Comedy Award, Best Newcomer Nominee, 2011
Winner: Chortle Awards Best Newcomer 2008
Finalist: Hackney Empire New Act Of The Year 2007
Finalist: So You Think You're Funny Competition Finalist 2006
Finalist: Funny Women Competition Finalist 2006
Credit
Television
Mock the Week (BBC2, 2009 – 2022)
Question Team (Dave, 2022)
Grayson's Art Club (Channel 4, 2021)
QI (BBC2, 2016- 2022)
Frankie Boyle's New World Order (BBC2, 2021)
Jon Richardson: Ultimate Worrier (Dave, 2019)
Richard Osman's House Of Games: Champion of Champions (BBC2, 2019)
Tipping Point: Lucky Stars (ITV, 2019)
Room 101 (BBC1, 2018)
I'll Get This (BBC1, 2018)
The Apprentice: You're Fired (BBC2, 2017)
Parenting For Idiots (C4, 2017)
8 Out Of 10 Cats Does Countdown (C4, 2014 – 2017)
Live At The Apollo (BBC2, 2016)
Roald Dahl's Most Marvelous Book (Channel 4, 2016)
Pointless Celebrities (BBC1, 2016)
Insert Name Here (BBC2, 2016)
Danny Baker's Players' Lounge (BT Sport 1, 2015)
Alan Davies As Yet Untitled (Dave, 2015)
Sweat the Small Stuff (BBC3, 2014)
Comedy Central at The Comedy Store (Comedy Central, 2014)
The Matt Lucas Awards, (BBC1, 2013)
Deal or No Deal / 8 Out of 10 Cats Mash Up, (Channel 4, 2013)
Celebrity Mastermind (BBC1, 2013)
8 Out of 10 Cats (Channel 4, 2009 – 2012)
Jonathan Ross Film Show (Pilot) (ITV, 2012)
Never Mind The Buzzcocks (BBC2 2009 -2012)
The Mad Bad Ad Show (Channel 4, 2012)
The Joy of the Single (BBC4 2012)
Edinburgh Comedy Gala (BBC3, 2011)
All Over The Place (CBBC, 2011)
Comedy Summit (Pilot) (E4, 2011)
Dave's One Night Stand (Dave, 2010)
My So Called Life Sentence (pilot) (BBC2, 2010)
The Blame Game (BBC N. Ireland, 2010)
Would I Lie To You? (BBC 1, 2010)
Celebrity Big Brother's Big Mouth (Channel 4, 2010)
You Have Been Watching (C4, 2009 – 2010)
TNT Show (Channel 4, 2009)
Big Brother's Little Brother (Channel 4, 2009)
Big Brother's Big Mouth (Channel 4, 2009)
Sound Celebrity Stalker (BBC 2, 2009)
Charlie Brooker's Newswipe (Pilot, 2009)
Winging It (BBC Switch, 2009)
Quarter Life Crisis (Current TV, 2009)
The Late Edition (BBC4, 2008)
Children's BBC (CBBC, 2008)
Edinburgh & Beyond (Paramount Comedy Channel, 2008)
Delta Forever (BBC3, 2008)
Frank Skinner's Skateboarding Dog (pilot) 2007
Radio
Just A Minute, (BBC Radio 4, 2014, 2016, 2023)
The Unbelievable Truth (BBC Radio 4, 2014-2022)
Museum Of Curiosity (Host, BBC Radio 4, 2021)
Joe Lycett's Obsessions (BBC Radio 4, 2020)
The News Quiz (BBC Radio 4, 2009-2017)
Museum Of Curiosity (Guest, BBC Radio 4, 2016)
Best Behaviour (BBC Radio 4, 2015)
The Now Show (BBC Radio 4, 2009 – 2014)
Britain vs The World (BBC Radio 4, 2014)
Radio 4 Extra Comedy (BBC Radio 4, 2014)
Wordaholics (BBC Radio 4, 2014)
Fred McCauley & Co (BBC Radio Scotland, 2013 & 2014)
Al Murray's Seven Day Sunday (BBC Radio 5, 2013)
Nick Helm's Boxing Day (BBC Radio 1)
Steven K Amos Show (BBC Radio 4)
Frank Skinner Show (Absolute Radio, 2012)
International Waters Podcast (2012)
And the winner is… (BBC Radio 2, 2011)
Charlie Brooker's So Wrong It's Right (BBC Radio 4, 2010-11)
Roundtable (BBC 6Music, 2010-2014)
7 Day Sunday (BBC Radio 5, 2010 – 2011)
Act Your Age (BBC Radio 4 2008, 2010, 2011)
Out To Lunch (BBC R2, 2008)
Witty & Twisted (BBC7, 2007)
Writing
The Other One, Series 1 – 2, (creator, co-writer, executive producer & director) (BBc1, 2020, 2022)
Motherland, Series 1 – 3 (creator, co-writer & executive producer) (BBC2, 2017-2021)
Girl Band pilot (working title), writer, Leftbank / Channel 4 2014
The Example pilot, writer & creator, Noho 2014
Psychobitches Series 1 – 2, Hat Trick / Sky 2013,  2014
Dead Boss, Executive Producer, Warner Bros, 2014
Crackanory Series 1 – 2, Tiger Aspect / Dave 2013, 2014
Best Friend (Working Title), film co-writer & co-creator, Big Talk / Pacific Standard Prods 2013
88 Keys non-TX pilot, writing contributor Big Talk / BBC 2013
Bad Management, co-writer/creator & co-producer, ABC Productions 2013
Cardinal Burns, Series 2, Left Bank / Channel 4 2013
Anna & Katy, Roughcut / Channel 4 2013
Dead Boss, co-writer/creator , BBC3 2012
Bad Mom, co-writer, ABC Productions 2012
My So Called Life Sentence pilot Co-writer with Sharon Horgan BBC 2010
V-EYE-P writing contributor BBC3 2010
Bigipedia writing contributor BBC Radio 2009
The News Quiz writing contributor BBC R4 2009
Broken Arts writing contributor BBC R4 2009
Talking and Not Talking (with Laura Solon) S2 & S3 writing contributor BBC R4 2008 – 2009
The Anna & Katy Show (pilot) writing contributor BBC R2 2008
The Wall writing contributor BBC3 2008
Laurence & Gus – Hearts & Minds S2 & S3 writing contributor BBC Radio 4 2008
The Charlotte Church Show writing contributor Channel 4 2007
Grrrr writer, BBC Scotland 2007
It's That Jo Caulfield Again S2 & S3 writing contributor BBC Radio 4 2006 – 2007
Live
Holly Walsh: Never Had It (Soho Theatre, 2015)
Holly Walsh: Never Had It (Edinburgh Festival, 2014)
Holly Walsh: Hollycopter (Soho Theatre, 2012)
Holly Walsh: Hollycopter (Edinburgh Festival, 2011)
Ross Noble Tour Support (UK, 2011)
Leicester Comedy Festival Tour Stand Up National Tour  (UK, 2009)
The Comedy Reserve Stand Up Pleasance (Edinburgh Fringe Festival, 2008)
Press
She's gifted with snappy wit and crackling talent.
The Guardian
She peppers her set with callbacks and clever asides and has easy charm.
Independent
A talent for smart comic writing and the ability to keep an audience rapt.
The Observer
Holly Walsh really impressed…excellent sets and endeared herself through some assured banter with crowds who really took to her.
British Comedy Guide
Praise for Motherland
Middle class parenting comedy doesn't get better than this.
Independent ★★★★
A joy to watch.
Evening Standard ★★★★
Stuffed with joke after joke… a hugely entertaining watch.
Radio Times ★★★★★

On 2014 Edinburgh Show 'Never Had It'
Her steady stream of witty and astute cultural observations belie her dorkiness from the first.
Chortle
Her gift for original lines and images that make this show a joy.
The Observer
Wonderful.
Metro
Brilliantly understated comic and comedy writer who claims to have a lack of charisma, yet weaves a relentlessly high gag count into her stories.
The Times
A meticulously well prepared and delivered Fringe show.
Chortle
A lightness of touch, springing punchlines on us when we least expect it.
Beyond The Joke
On 2011 Fosters nominated Edinburgh Show 'The Hollycopter'
Delightful moments of hilarity.
Chortle
Skilfully paced.
The Independent
Wry asides and delicate puns…genuinely endearing.
Fest Mag
Less than a week into her debut run she is confident and composed.
A bubbly and infectious persona that is complimented by abilities as a writer and performer. She has crafted a well-honed piece with plenty of laughs, a satisfying story and even a joyous conclusion…She will go a long way.
Chortle
Original humour…hilarious narrative anyone can relate to.
Three Weeks