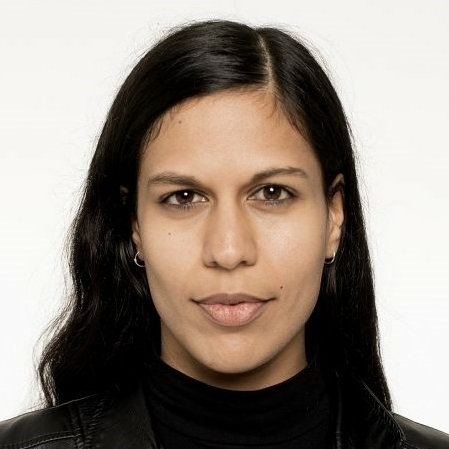 Hilarious and no messin'.
BBC Asian Network Comedy
Charlie George is an award-winning stand-up comedian and writer.
A talented and accomplished writer, Charlie was chosen to join Charlie Brooker's writers' room for Cunk & Other Humans on 2019 and AntiViral Wipe (both for BBC Two), plus Death to 2020 for Netflix. She has written for Channel 4's Alternative Election Night, Have I Got News For You, Joe Lycett's Got Your Back, E4's 8 Out of 10 Cats, BBC1's Blankety Blank, BBC Two's Frankie Boyle's New World Order and BBC Radio 4's Newsjack and The Now Show. Charlie was recently selected out of 3,700 writers for the Penguin Write Now editorial programme to write her first autofiction book Door to Door.
Charlie established and co-hosts her own comedy night, Crack-Up Comedy Cabaret at The Glory in London in aid of Hackney mental health charity Core Arts. She is the host of an Audible Originals podcast series exploring evidence based solutions to improving wellbeing and mental health with anthropologist Mary-Ann Ochota called Happiness… And How To Get It. 
Awards
Nominee: Leicester Comedy Festival Award for Best Debut Show 2023
Nominee: Chortle Awards for Best Newcomer 2020
Winner: Comedy Bloomer's LGBTQ+ New Comedian of the Year 2019
Runner-up: So You Think You're Funny? Awards 2019
Runner-up: Funny Women Awards 2019
Finalist: Leicester Square New Comedian Award 2018
Finalist: Pride's Got Talent 2018
Credits
TV
The Stand Up Sketch Show (ITV2, Guest, 2023)
Rhod Gilbert's Growing Pains (C4, Guest, 2021)
Writing
Horrible Histories (CBBC, 2022)
8 Out of 10 Cats Does Countdown (C4, 2022)
The Emily Atack Show (ITV2, 2022)
Have I Got News For You (C4, 2021)
Joe Lycett's Got Your Back (C4, 2021)
Blankety Blank (BBC1, 2021)
Yesterday, Today & The Day Before (Comedy Central, 2021)

Death To 2020 (Netflix, 2020)

Charlie Brooker's Antiviral Wipe (BBC2, 2020)

Frankie Boyle's New World Order (BBC2, 2020)

Hello America (Quibi, 2020)

8 Out Of 10 Cats (E4, 2020)
Newsjack (BBC Radio 4, 2020)
The Now Show (BBC Radio 4, 2020)
ITV's Original Voices (2019)
Cunk & Other Humans (BBC2, 2019)
Longlisted: Thousand Films & Sid Gentle Writing Competition (2019)
Lime Pictures Scripted Development Team (2019)
Podcasts
Ayesha Hazarika's Weekend Drive, Times Radio, (Guest, 2022, 2023)
The Gargle, (Guest, 2022)
Dating Games, (Guest, 2021)
Happiness… And How To Get It (Co-host, Audible, 2020-2021)
The Bugle Presents… The Last Post (Guest, 2020)
Global Pillage (Guest, 2019)
BBC No Country for Young Women Live at the Edinburgh Festival (Stand-up, 2019)
Live
Best In Class (Stand-up Showcase, Edinburgh Fringe Festival 2019)
Crack-Up Comedy Cabaret (Creator and co-host – regular gig in London)
Online
BBC Asian Network Comedy Live (Stand-up, 2019)
Press
A personable and witty comic with a playful, naughty streak and an ear for a strong gag.
Steve Bennett, Chortle
Hilarious and no messin'.
BBC Asian Network Comedy
A pacy, energetic performance of engaging material liberally flecked with wry, savvy lines… It makes for a triumphant package.
Steve Bennett, Chortle
Charlie George and Jennie Falconer make you want to put them in your pocket and take them away with you. They are as warm and gooey as a treacle tart, but they will make you laugh like a hyena!
Diva Magazine (on Crack-Up Comedy Cabaret)