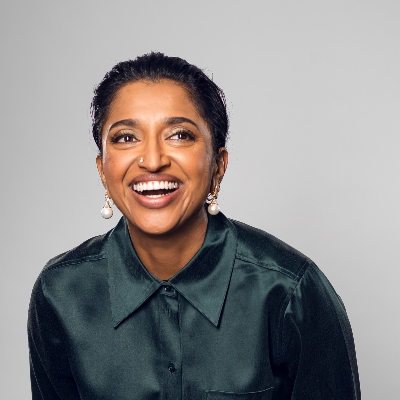 Sindhu Vee is an award-winning comedian, writer and actor.
As a critically acclaimed stand up comedian, Sindhu has twice appeared on BBC Two's Live At The Apollo, most recently as host, and has appeared on all of the top British comedy panel shows, including: Mock the Week (BBC Two), QI (BBC Two), Have I Got News For You (BBC One) and Would I Lie to You? (BBC One). Sindhu has toured across the UK and performed stand up across the world, including at the invitation-only Just For Laughs Festival in Montreal. Sindhu's stand up special Sandhog is available to stream on Amazon Prime UK.
An accomplished actor, Sindhu is the co-lead in the forthcoming sitcom The Pradeeps of Pittsburgh, produced by Sony Pictures Television for Amazon Freevee. Sindhu played Mrs Phelps in the recent smash hit Netflix feature film adaptation of Roald Dahl's Matilda, starring alongside Emma Thompson, Lashana Lynch and Stephen Graham. The feature film musical received wide critical acclaim and became the number one Family Movie on Netflix in 88 countries.
Sindhu will also be seen in Kristin Scott Thomas' forthcoming directorial debut feature film My Mother's Wedding, which stars Scarlett Johansson and Sienna Miller. Vee's other acting credits include: Starstruck (BBC/HBO Max), Sex Education (Netflix) and Feel Good (Channel 4/Netflix).
Nominee: Edinburgh Comedy Award Best Newcomer 2018
Winner: Eastern Eye: Arts, Culture & Theatre Awards 2017
Runner-up: Leicester New Comedian of the Year 2017
Nominee: New Act of the Year 2017
Nominee: BBC New Comedy Award 2016
Credit
Acting
The Pradeeps of Pittsburgh (TV, Amazon Freevee, Sudha, tbc)
What's Love Got To Do With It? (Film, Flying Pictures, Fertility Doctor, 2023)
Matilda (Film, Working Title Films, Mrs Phelps, 2022)
Sex Education (TV, Netflix, Olivia's Mum, 2020)
Starstruck (TV, BBC3, Sindhu, 2021)
Feel Good (TV, Netflix & E4, Karen, 2020)
Say My Name (Film, Dr Raj, 2019)
Stand Up Specials
Sindhu Vee: Sandhog (Amazon Prime Video and Soho Theatre, 2021)
Television
The Weakest Link (BBC1, 2022)
The Wheel (BBC1, 2022)
QI (BBC2, Guest, 2018, 2020, 2021, 2022)
Rhod Gilbert's Growing Pains (Comedy Central, Guest, 2022)
Guessable? (Comedy Central, Guest, 2022)
Paul Sinha's TV Showdown (ITV, 2021)
Mel Giedroyc: Unforgiveable (Dave, 2021)
There's Something About Movies (Sky1, 2021)
Pointless Comedians (BBC1, 2021)
Extraordinary Escapes with Sandi Toksvig (Channel 4, 2021)
Richard Osman's House Of Games (BBC2, Contestant, 2021)
Would I Lie To You? (BBC1, Panellist, 2021)
The Last Leg (Channel 4, Guest, 2020)
The Jonathan Ross Show (ITV, Guest, 2020)
Hypothetical (Dave, Guest, 2020)
Comedy Game Night (Comedy Central, Guest, 2020)
Live At The Apollo (BBC2, Host & Stand-Up, 2018-2019)
The Tez O'Clock Show (Channel 4, Co-Host, 2019)
Comedians Giving Lectures (Dave, Guest, 2019)
Mock The Week (BBC2, Guest, 2019)
Lenny Henry's Race Through Comedy (Gold, Guest, 2019)
Utterly Outrageous Comedy (Channel 5, Guest, 2019)
The Apprentice: You're Fired (BBC2, Guest, 2019)
Have I Got News For You (BBC2, Guest, 2018)
Sindhu Vee's Comedy Short (Sky Arts, Writer & Performer, 2018)
River Walks (BBC1, Co-Host, 2018)
Sick Of It (Sky 1, Role of Chemist, 2018)
Ahir Shah's Summer (Sky 1, Role of Sapna, 2017)
Alan Davies: As Yet Untitled (Dave, Guest, 2017)
BBC Asian Network Comedy (BBC iPlayer, Stand-Up, 2014, 2016)
Radio
ReincarNathan (BBC Radio 4, 2022)
The Unbelievable Truth (BBC Radio 4, 2018 – 2022)
The News Quiz (BBC Radio 4, 2018-2022)
A Good Read (Guest, BBC R4, 2021)
Olga Koch: OK Computer (BBC Radio 4, 2021)
Loose Ends (BBC Radio 4, Co-host, 2021)
Times Radio (Times Radio, Guest, 2021)
Elephant In The Room (BBC Radio 4, 2021)
Felicity Ward – Appisodes (BBC Radio 4, 2021)
Word Of Mouth (BBC Radio 4, 2020)
Nature Table (BBC Radio 4, 2020)
Things My Mother Never Told Me About Lockdown (BBC Radio 4, Host, 2020)
Loose Ends (BBC Radio 4, 2020)
You're Dead To Me (BBC Radio 4, 2020)
The Leak (BBC Radio Wales, 2020)
Phil Ellis Is Trying (BBC Radio 4, 2020)
Tracks (BBC Radio 4, 2020)
Sandi Toksvig's Hygge (BBC Radio 4, 2020)
Start The Week (BBC Radio 4, 2020)
Comedy Catalysts (BBC Radio 4 Extra, 2019)
Sindhustan (BBC Radio 4, Writer & Host, 2018)
The Museum of Curiosity (BBC Radio 4, 2018)
Stop The Press (BBC Radio Scotland, 2018)
The Machynlleth Comedy Festival Showcase (BBC Radio 4 Extra & Radio Wales, 2018)
The Now Show (BBC Radio 4, 2017)
Where's The F In News (BBC Radio 4, 2017)
… At The Stand (BBC Radio 4, 2017)
BBC New Comedy Award Grand Final (BBC Radio 4 Extra, Stand-Up,2016)
Podcasts
Dating Games (Guest, 2021)
Feast is Feast (Guest, 2021)
Life Sentences (Performer, 2021)
The Moon Under Water (Guest, 2021)
Brydon & (Guest, 2021)
Who Are You Wearing? (Guest, 2021)
The Paul Chowdhry Pudcast (Guest, 2021)
Just One Thing (Guest, 2021)
Jacob Hawley: On Love (Guest, 2021)
The Guilty Feminist (Guest & Co-Host, 2017-2021)
Locked Together (Co-Host, 2020)
RHLSTP (Guest, 2020)
Where Are You Really From? (Guest, 2019)
Daddy Look At Me (Guest, 2019)
Radio 4's Great Lives (Guest, 2019)
Dane Baptiste Questions Everything (Guest, 2019)
The Scummy Mummies Podcast (Guest, 2019)
The Comedian's Comedian Podcast (Guest, 2019)
Off Menu (Guest, 2019)
Evil Genius (Guest, 2019)
Radio 4's A Good Read (Guest, 2018)
Global Pillage (Guest, 2017-2018)
Live
Alphabet (UK Tour 2021)
Sandhog (Edinburgh Festival Fringe 2018, UK Tour 2019, 2021)
The Guilty Feminist Live Tour (Guest, 2019)
The Secret Policeman's Tour (Guest, 2019)
Press
Superior comedy… Exceptionally funny.
The List ★★★★
Gleefully wicked
Sunday Times
Refreshing, clever stuff
Bruce Dessau
She effortlessly manages to be simultaneously waspish yet instantly very likeable
Steve Bennet, Chortle
Her acerbic perspective and unapologetic delivery of less politically correct home truths are alarmingly persuasive
The List
Excellent
Broadway Baby